---
OLD BREED. At Peleliu and Okinawa and to the Old Breed. The deaths ye died I have approaching from the Peleliu airfield to the south. "We gonna have. Editorial Reviews. Review. "Eugene Sledge became more than a legend with his memoir, With The Old Breed. He became a chronicler, a historian, a storyteller. "Of all the books about the ground war in the Pacific, [With the Old Breed] is the .. The look back at the savagery of Peleliu and Okinawa— based on old battle.
| | |
| --- | --- |
| Author: | BRANDE STASCHKE |
| Language: | English, Spanish, Dutch |
| Country: | Burundi |
| Genre: | Personal Growth |
| Pages: | 645 |
| Published (Last): | 09.12.2015 |
| ISBN: | 158-2-46069-545-7 |
| Distribution: | Free* [*Registration Required] |
| Uploaded by: | MARIANNA |
---
45118 downloads
173470 Views
33.51MB PDF Size
Report
---
With the Old Breed at Peleliu and Okinawa. bySledge, E. B. (Eugene print- disabled users. Borrow this book to access EPUB and PDF files. With the Old Breed: At Peleliu and Okinawa. Файл формата pdf; размером 76, 08 МБ. Добавлен пользователем Heffer [PDF] With the Old Breed: At Peleliu and Okinawa FOR DOWNLOAD FREE:https:/ /terney.info?id= #Ebook.
Search this site. A Covert Affair: A History of Iran: A Man Called Intrepid: A Man of Honor: A Man Without Breath: Aanraking De Krinar-kronieken: Alles in de wind: Always Hungry?: America's War for the Greater Middle East: American Desperado: American Kingpin: American Sniper:
Operation Playboy: Ordinary Men: Oriental Neighbors: Pablo Escobar: Palestine Inside Out: Past Tense: People Who Eat Darkness: Pluk een roos: Wat als je ergste nachtmerrie werkelijkheid wordt? Portrait of a Monster: Prinsen van Castaldini 3-in Private London: Prompt and Utter Destruction, Third Edition: Samuel Walker. Protecting Fiona: Prussian Blue: Red Notice: How I Became Putin's No.
Rescuing Mary: Restless in Peace: Revolution for Dummies: Revolutionary Iran: Ride Hard: Riley Paige Mystery Bundle: Rio Grande: Rise and Kill First: Rough Justice: Running with Jesus: Saturday Requiem: Schuitje varen: Secrets in Death: Seven Pillars of Wisdom: Sexy zomerbundel 3: Shattered Duty: Snowing in Bali: Star Bears Ultimate Box Set: Stieg Larssons erfenis: Storm of Steel: Sua Sponte: Terug naar de Rode Rivier: The th Crybaby Brigade: The Ancient Near East: The Arab Uprisings Explained: The Book of Contemplation: The Cistercian Evolution: The Complete Gillian Flynn: The Crossing Places: The Darkest Day: The Devil: The Egyptian Book of the Dead: Wallis Budge.
The Egyptians: The Enemy: The Everything Guide to Herbal Remedies: The Fall of Heaven: The Fitness Book: The Gathering: The Ghost Agent: The Girl Before: The Good Daughter: The gripping new bestselling thriller from a No. The Grand Strategy of the Roman Empire: The Great War for Civilisation: The Ice Man: The Kept Woman: The Making of Riley Paige Bundle: The Midnight Line: The Miracle of the Kurds: The Mystery of the Lone Wolf Killer: The Operator: The Perfect Couple: Are they hiding the perfect lie?
The Race: The Radium Girls: The Reckoning: The Riverman: The Roubaud Connection Book The Sleepwalkers: The Snowden Files: The Tragedy of the Templars: The Young Turks' Crime against Humanity: Time Isn't the Problem: To Kill the President: Tom Clancy: Top Secret Twenty-One: Trots en macht: Turbo Twenty-Three: Two Kinds of Truth: If you continue browsing the site, you agree to the use of cookies on this website.
See our User Agreement and Privacy Policy. See our Privacy Policy and User Agreement for details. Published on Jun 30, At Peleliu and Okinawa.
SlideShare Explore Search You. Submit Search. Successfully reported this slideshow. We use your LinkedIn profile and activity data to personalize ads and to show you more relevant ads. You can change your ad preferences anytime. With the old breed at peleliu and okinawa [pdf] download.
Upcoming SlideShare. Like this presentation? Why not share! An annual anal Embed Size px. By he had completed his Ph. His scholarly expertise and precision of thought and language, gained from nearly thirty years as a teacher and scientist, perhaps explain much of the force of With the Old Breed.
It seemed so insane, and I realized that the war was like some sort of disease afflicting man. Sledge's language is modest; there is no bombast. The resulting autopsy of battle is eerie, almost dreamlike. Dispassionate understatement accentuates rather than sanitizes the barbarity. I stared in horror, shocked at the glistening viscera bespecked with fine coral dust.
This can't have been a human being, I agonized. It looked more like the guts of one of the many rabbits or squirrels I had cleaned on hunting trips as a boy. I felt sick as I stared at the corpses. But he didn't survive Peleliu to realize his ambition. It was an existential struggle of annihilation. In particular theaters the Japanese had advantages over the Americans in numbers, choice of terrain, and even supply. We now might underestimate the wartime technology of imperial Japan, forgetting that it was often as good as, or even superior to, American munitions.
On both islands Sledge writes in detail of the singular Japanese mortars and artillery that wheeled out, fired, and then withdrew in safety behind heavy steel doors. Americans first encountered this awesome weapon on Iwo Jima. Land crabs and ubiquitous jungle rot ate away leather, canvas—and flesh.
Rather, there grew a certain dread or even bewilderment among young draftees about the nature of an ideology that could fuel such elemental hatred of the Americans. Many refused to believe it. Sitting in stunned silence, we remembered our dead. So many dead. So many maimed. So many bright futures consigned to the ashes of the past. The memoir centers on two nightmarish island battles that ultimately ruined the division. The first was at Peleliu Operation Stalemate II, September November 25, , where in 10 weeks of horrific fighting some 8, Americans were killed, wounded, or missing.
About 11, Japanese perished—nearly the entire enemy garrison on the island. Controversy raged—and still does about the wisdom of storming many of the Pacific islands—whether Gen. Douglas MacArthur really needed the capture of the Japanese garrison on Peleliu to ensure a safe right flank on his way to the Philippines.
Yet such arguments over strategic necessity count little for Sledge. His concern is instead with the survival of his comrades in Company K, which suffered killed, wounded, or missing. And so there is little acrimony over the retrospective folly of taking on Peleliu. Indeed it was the most nightmarish American experience of the entire Pacific war—over 50, American casualties, including some 12, soldiers and sailors killed, and the greatest number of combat fatigue cases ever recorded of a single American battle.
My namesake Victor Hanson, of the 6th Marine Division, 29th Regiment, was killed near the Shuri Line, in the last assault on the heights, a few hours before its capture on May 19, His letters, and those of his commanding officer notifying our family of his death, make poignant reading— including the account of his final moments on Sugar Loaf Hill.
Indeed, the very name Okinawa has haunted the Hanson family, as it had Sledge's and thousands of other American households, for a half century hence. For decades in the United States no one really knew—or wished not to know— what really went on at Okinawa. In fact, neither of Sledge's two battles, despite their ferocity and the brutal eventual American victories—being in obscure, distant places and in the so-called second theater— garnered the public attention of Normandy Beach or the Battle of the Bulge.
In the case of Okinawa, the savagery was overshadowed, first, by the near simultaneous death of Franklin Roosevelt on April 12, and the May 8 German surrender in Europe; and then later by the dropping of the atomic bombs on Hiroshima and Nagasaki August 6 and 9 , just over five weeks after the island was declared finally secured on July 2. Sandwiched in between these momentous events, tens of thousands of Americans in obscurity slowly ground their way down the island.
They accepted that they might have to kill everyone in most of the last crack Japanese units, led by the most accomplished officers in the Japanese military, the brilliant but infamous generals Mitsuru Ushijima and Isamu Cho and the gifted tactician Col.
Hiromichi Yahara.
When the battle was over, the U. Navy had suffered its worst single-battle losses in its history. The newly formed 6th Marine Division and Sledge's veteran 1st Marine Division were wrecked, with almost half their original strength either killed or wounded.
The commander of all U. Simon Bolivar Buckner, Jr. The destructive potential of thousands of kamikaze suicide bombers, together with the faulty prebattle intelligence that had sorely underestimated the size, armament, and ferocity of the island resistance, created a dread about the upcoming November 1 scheduled assault on the Japanese mainland Operation Olympic. Controversy still rages over the morality of dropping the two atomic bombs that ended the war before the American invasions of Kyushu and Honshu.
But we forget that President Truman's decision was largely predicated on avoiding the nightmare that Marines like E. Sledge had just endured on Peleliu and Okinawa. If today Americans in the leisure of a long peace wonder whether our grandfathers were too hasty in their decision to resort to atomic weapons, they forget that many veterans of the Pacific wondered why they had to suffer through an Okinawa when the successful test at Alamogordo, New Mexico, on July 16 came just a few days after the island was declared secure.
Surely the carnage on Okinawa could have been delayed till late summer to let such envisioned weapons convince the Japanese of the futility of prolonging the war. There are fine memoirs of Okinawa and narrative accounts of the battle's role in the American victory over Japan, most notably William Manchester's beautifully written Goodbye, Darkness, and George Feifer's comprehensive Tennozan: The Battle of Okinawa and the Atomic Bomb.
But E. Sledge's harrowing story remains unmatched, told in a prose that is dignified, without obscenities or even much slang—all the more memorable since the author was not a formal stylist nor given to easy revelations of his own strong passions.
John Keegan, Paul Fussel, and Studs Turkel have all praised Sledge's honesty, especially his explicit acknowledgment that he experienced the same hatred, but fought daily against the barbarity that drove others to nearly match the atrocities of their Japanese enemies.
Unlike the case of many postwar memoirs, the accuracy of Sledge's facts has never been called into question. He does not magnify his own achievements or those of his own Company K. Sledge sometimes uses a few footnotes of explication at the bottom of the page. Often they are heartbreaking asterisks that apprise the reader that the wonderful officer Sledge has just described in the text was later shot or blown up on Peleliu or Okinawa.
My emotions solidified into rage and a hatred for the Japanese beyond anything I ever had experienced. From that moment on I never felt the least pity or compassion for them no matter what the circumstances.
My comrades would field strip theirpacks and pockets for souvenirs and take gold teeth, but I never saw a Marine commit the kind of barbaric mutilation the Japanese committed if they had access to our dead. What I find most haunting about With the Old Breed is Sledge's empathy with those whom he might not have been expected to share a natural affinity, among them even at times the enemy—whom he often wishes not to kill gratuitously and whose corpses he refuses to desecrate.
His is a very mannered Southern world where the martial chivalry of an Alabama, Louisiana, or Texas soldier shine through; implicit is a pride in the stereotyped manhood or the Old South, but also love for his Yankee comrades who he knows fight as well as his kinsmen. Sledge admits fear, occasionally acknowledging that his courage was the only result of desperation or rational calculation. He only incidentally notes his skill as a Marine. He possessed a unique combination of those qualities of bravery, leadership, ability, integrity, dignity, straightforwardness, and compassion.
With the Old Breed, at Peleliu and Okinawa Summary & Study Guide
The only other officer I knew who was his equal in all these qualities was Captain Haldane. Of Gunnery Sgt. To us he was the old breed. We admired him—and we loved him. Bob Hope at the height of his Hollywood career turns up as the devoted patriot at out-of-the-way Pavuvu, flying in at some danger to entertain the troops. And the future Illinois senator Paul Douglas—noted author and University of Chicago economics professor— appears in the worst of combat at Peleliu as a gray-haired, bespectacled fifty-three-year-old Marine enlistee, handing out ammo to the young Sledge.
Sledge shares a hatred for the brutality of the Japanese, but it never blinds him to their shared horrible fate of being joined together in death at awful places such as Peleliu and Okinawa. It wasn't simply souvenir hunting or looting the enemy dead; it was more like Indian warriors taking scalps. Such was the incredible cruelty that decent men could commit when reduced to a brutish existence in their fight for survival amid the violent death, terror, tension, fatigue, and filth that was the infantryman's war.
War is brutish, inglorious, and a terrible waster. Combat leaves an inedible mark on those who are forced to endure it. Marine Corps training taught us to kill efficiently and to try to survive.
But it also taught us loyalty to each other—and love. That esprit de corps sustained us. There is a renewed timeliness to Sledge's memoir. With the Old Breed has never been more relevant than after September 11—war being the domain of an unchanging human nature and thus subject to predictable lessons that transcend time and space.
It is not just that American Marines of the new millennium also face a novel strain of suicide bombers, or fanatic enemies emboldened by a frightening anti-Western creed, or once again the similar terror of Sledge's mines, mortars, and hand-to-hand battle in places like Iraqi's Ha-ditha or Ramadi. Rather, Sledge reminds us of the lethality of what we might call the normal American adolescent in uniform, a grim determinism that we also recognized in the Hindu Kush and Kirkuk.
Raised amid bounty and freedom, the American soldier seems a poor candidate to learn ex nihilo the craft of killing. How can a suburban teenager suddenly be asked to face and defeat the likes of zealots, whether on Okinawa's Shuri Line or at Fallujah in the Sunni Triangle? Or as E. Sledge once more reminds us thirty-six years after surviving Okinawa: In writing I am fulfilling an obligation I have long felt to my comrades in the 1st Marine Division, all of whom suffered so much for our country.
None came outunscathed. But they suffered and they did their duty so a sheltered homeland can enjoy the peace that was downloadd at such high cost. We owe the same to the late E. So he brings alive again the names, faces, and thoughts of those who left us at Okinawa and Peleliu, but who passed on what we must in turn bequeath to others to follow.
After a war is over, it's deceptively easy to determine which battles were essential and which could have gone unfought.
Thus, in hindsight, Peleliu's contribution to total victory was dubious. To the men of the 1st Marine Division who made the assault on Peleliu the youngest of whom are in their fifties today , there was nothing minor about it. For those who were there, it was a bloody, wearying, painful, and interminable engagement. For a single-division operation, the losses were extraordinarily heavy. Eugene B. Sledge served in Company K, 3d Battalion, 5th Marines throughout the battle.
I had the privilege of commanding Company I of the same battalion in the same period. His account awoke vivid memories which had lain dormant for years.
Don't read this personal narrative seeking the significance of the battle or of grand strategy. Rather read it for what it is, intense combat as seen by an individual Marine rifleman.
For those who have experienced battle elsewhere, the similarities will be obvious. Crown Lieutenant Colonel U. At the time I was a freshman at Marion Military Institute. My parents and brother Edward had urged me to stay in college as long as possible in order to qualify for a commission in some technical branch of the U. But, prompted by a deep feeling of uneasiness that the war might end before I could get overseas into combat, I wanted to enlist in the Marine Corps as soon as possible.
Ed, a Citadel graduate and a second lieutenant in the army, suggested life would be more beautiful for me as an officer.
Sledge Eugene Bondurant. With the Old Breed: At Peleliu and Okinawa
It was called V The recruiting sergeant wore dress blue trousers, a khaki shirt, necktie, and white barracks hat. His shoes had a shine the likes of which I'd never seen.
He asked me lots of questions and filled out numerous official papers. I asked why such a question. The college year ended the last week of May I enjoyed the train trip from Mobile to Atlanta because the train had a steam engine.
The smoke smelled good, and the whistle added a plaintive note reminiscent of an unhurried life. The porters were impressed and most solicitous when I told them, with no little pride, that I was on my way to becoming a Marine. My official Marine Corps meal ticket got me a large, delicious shrimp salad in the dining car and the admiring glances of the steward in attendance. On my arrival in Atlanta, a taxi deposited me at Georgia Tech, where the man Marine detachment lived in Harrison Dormitory.
A Marine regular, Capt. Donald Payzant, was in charge. He had served with the 1st Marine Division on Guadalcanal. Seeming to glory in his duty and his job as our commander, he loved the Corps and was salty and full of swagger. Looking back, I realize now that he had survived the meat grinder of combat and was simply glad to be in one piece with the good fortune of being stationed at a peaceful college campus.
Life at Georgia Tech was easy and comfortable. In short, we didn't know there was a war going on. Most of the college courses were dull and uninspiring. Many of the professors openly resented our presence. It was all but impossible to concentrate on academics.
Most of us felt we had joined the Marines to fight, but here we were college boys again. The situation was more than many of us could stand. At the end of the first semester, ninety of us—half of the detachment— flunked out of school so we could go into the Corps as enlisted men. When the navy officer in charge of academic affairs called me in to question me about my poor academic performance, I told him I hadn't joined the Marine Corps to sit out the war in college.
He was sympathetic to the point of being fatherly and said he would feel the same way if he were in my place. Captain Payzant gave the ninety of us a pep talk in front of the dormitory the morning we were to board the train for boot camp at the Marine Corps Recruit Depot, San Diego, California. He told us we were the best men and the best Marines in the detachment.
He said he admired our spirit for wanting to get into the war. I think he was sincere. After the pep talk, buses took us to the railway station. We sang and cheered the whole way. We were on our way to war at last. If we had only known what lay ahead of us!
Approximately two and a half years later, I came back through the Atlanta railway station on my way home. Shortly after I stepped off the car for a stroll, a young army infantryman walked up to me and shook hands. He said he had noticed my 1st Marine Division patch and the campaign ribbons on my chest and wondered if I had fought at Peleliu.
When I said I had, he told me he just wanted to express his undying admiration for men of the 1st Marine Division. He had fought with the 81st Infantry Division Wildcats , which had come in to help us at Peleliu.
He knew he would either die of his wounds or be cut up by the Japanese when darkness fell. Risking their lives, some Marines had moved in and carried him to safety.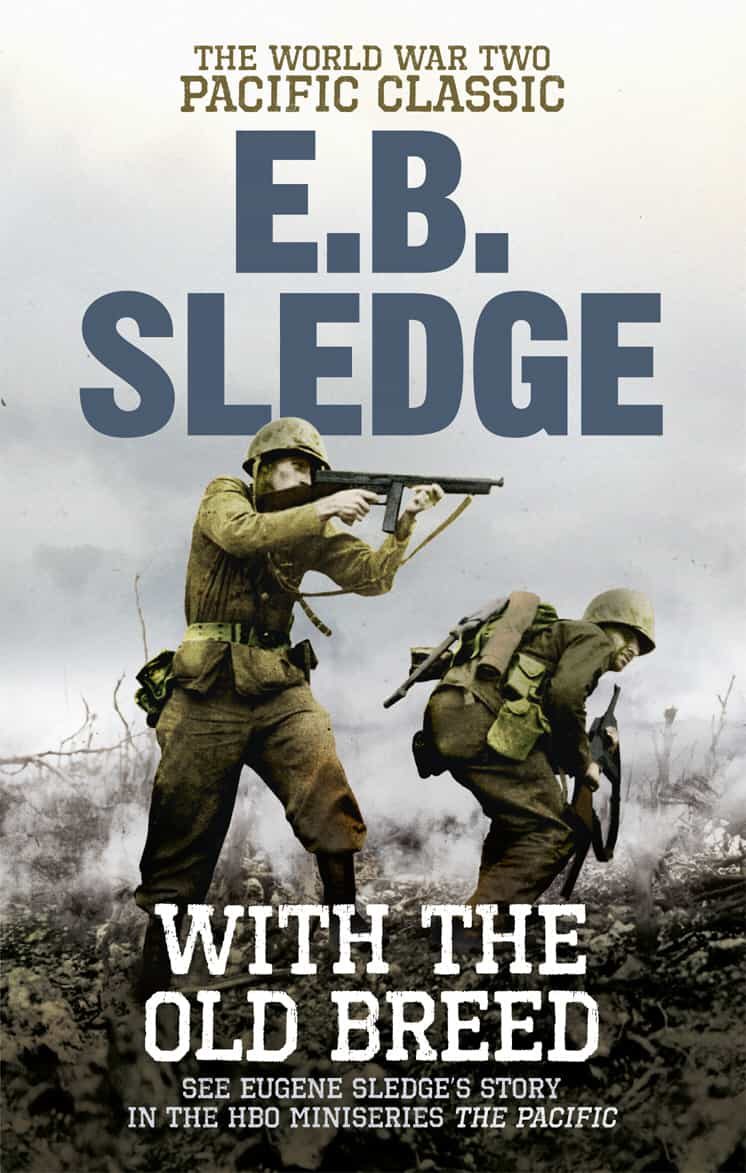 The soldier said he was so impressed by the bravery, efficiency, and esprit of the Marines he saw on Peleliu that he swore to thank every veteran of the 1st Marine Division he ever ran across.
Everyone was in high spirits, as though we were headed for a picnic instead of boot camp—and a war. The trip across the country took several days and was uneventful but interesting.
Most of us had never been west, and we enjoyed the scenery. The monotony of the trip was broken with card games, playing jokes on each other, and waving, yelling, and whistling at any and all women visible.
Buy for others
We ate some meals in dining cars on the train; but at certain places the train pulled onto a siding, and we ate in the restaurant in the railroad terminal. Nearly all of the rail traffic we passed was military.
We saw long trains composed almost entirely of flatcars loaded with tanks, halftracks, artillery pieces, trucks, and other military equipment. Many troop trains passed us going both ways. Most of them carried army troops. This rail traffic impressed on us the enormousness of the nation's war effort. We arrived in San Diego early one morning. Collecting our gear, we fell into ranks outside our cars as a first sergeant came along and told the NCOs on our train which buses to get us aboard.
This first sergeant looked old to us teenagers. Like ourselves, he was dressed in a green wool Marine uniform, but he had campaign ribbons on his chest. Later, as a member of the 5th Marine Regiment, I would wear the braided cord around my left arm with pride.
But this man sported, in addition, two single loops outside his arm. That meant he had served with a regiment either the 5th or 6th Marines that had received the award from France for distinguished combat service in World War I. The sergeant made a few brief remarks to us about the tough training we faced. He seemed friendly and compassionate, almost fatherly. His manner threw us into a false sense of well-being and left us totally unprepared for the shock that awaited us when we got off those buses.
Get aboard them buses! They seemed to have become more authoritarian as we approached San Diego. After a ride of only a few miles, the buses rolled to a stop in the big Marine Corps Recruit Depot—boot camp. As I looked anxiously out the window, I saw many platoons of recruits marching along the streets. Each drill instructor DI bellowed his highly individual cadence. The recruits looked as rigid as sardines in a can.
I grew nervous at seeing how serious—or rather, scared—they seemed. Several trucks rolled by carrying work parties of men still in boot camp or who had finished recently. Shortly after we debused, a corporal walked over to my group. Right hace, forwart huah. Double time, huah.
We were breathless. He didn't even seem to be breathing hard. From then on he tried to prove it every moment of every day. I'm your drill instructor. This is Platoon If any of you idiots think you don't need to follow my orders, just step right out here and I'll beat your ass right now.
Your soul may belong to Jesus, but your ass belongs to the Marines. You people are recruits. You're not Marines. You may not have what it takes to be Marines. We were all humbled, because there was no doubt the DI meant exactly what he said. Corporal Doherty wasn't a large man by any standard. He stood about five feet ten inches, probably weighed around pounds, and was muscular with a protruding chest and flat stomach.
He had thin lips, a ruddy complexion, and was probably as Irish as his name. From his accent I judged him to be a New Englander, maybe from Boston. His eyes were the coldest, meanest green I ever saw. He glared at us like a wolf whose first and foremost desire was to tear us limb from limb. He gave me the impression that the only reason he didn't do so was that the Marine Corps wanted to use us for cannon fodder to absorb Japanese bullets and shrapnel so genuine Marines could be spared to capture Japanese positions.
That Corporal Doherty was tough and hard as nails none of us ever doubted. Most Marines recall how loudly their DIs yelled at them, but Doherty didn't yell very loudly. Instead he shouted in an icy, menacing manner that sent cold chills through us.
We believed that if he didn't scare us to death, the Japs couldn't kill us. He was always immaculate, and his uniform fitted him as if the finest tailor had made it for him. His posture was erect, and his bearing reflected military precision. The public pictures a DI wearing sergeant stripes. Doherty commanded our respect and put such fear into us that he couldn't have been more effective if he had had the six stripes of a first sergeant instead of the two of a corporal.
One fact emerged immediately with stark clarity: this man would be the master of our fates in the weeks to come. Doherty rarely drilled us on the main parade ground, but marched or double-timed us to an area near the beach of San Diego Bay. There the deep, soft sand made walking exhausting, just what he wanted. For hours on end, for days on end, we drilled back and forth across the soft sand.
My legs ached terribly for the first few days, as did those of everyone else in the platoon. I found that when I concentrated on a fold of the collar or cap of the man in front of me or tried to count the ships in the bay, my muscles didn't ache as badly.
To drop out of ranks because of tired legs was unthinkable. I preferred the pain to the remedy. Before heading back to the hut area at the end of each drill session, Doherty would halt us, ask a man for his rifle, and tell us he would demonstrate the proper technique for holding the rifle while creeping and crawling. First, though, he would place the butt of the rifle on the sand, release the weapon, and let it drop, saying that anyone who did that would have a miserable day of it.
With so many men in the platoon, it was uncanny how often he asked to use my rifle in this demonstration. Then, after demonstrating how to cradle the rifle, he ordered us to creep and crawl. Naturally, the men in front kicked sand onto the rifle of the one behind him. With this and several other techniques, the DI made it necessary for us to clean our rifles several times each day.
During the first few days, Doherty once asked one of the recruits a question about his rifle. A typical day in boot camp began with reveille at hours.
We tumbled out of our sacks in the chilly dark and hurried through shaves, dressing, and chow. The grueling day ended with taps at At any time between taps and reveille, however, the DI might break us out for rifle inspection, close-order drill, or for a run around the parade ground or over the sand by the bay.
This seemingly cruel and senseless harassment stood me in good stead later when I found that war allowed sleep to no man, particularly the infantryman.
Combat guaranteed sleep of the permanent type only. We moved to two or three different hut areas during the first few weeks, each time on a moment's notice. Each man had one or two close buddies who pitched in to help each other don packs and hoist heavy seabags onto sagging shoulders.
Several men from each hut would stay behind to clean up the huts and surrounding area as the other men of the platoon struggled under their heavy loads to the new hut area. Upon arrival at the new area, the platoon halted, received hut assignments, fell out, and stowed gear.
Just as we got into the huts we would get orders to fall in for drill with rifles, cartridge belts, and bayonets. The sense of urgency and hurry never abated. Our DI was ingenious in finding ways to harass us. One of the hut areas we were in was across a high fence from an aircraft factory where big B Liberator bombers were made. There was an airstrip, too, and the big four-engine planes came and went low over the tops of the huts.
Once one belly-landed, going through the fence near our huts. No one was hurt, but several of us ran down to see the crash. When we got back to our area, Corporal Doherty delivered one of his finest orations on the subject of recruits never leaving their assigned area without the permission of their DI.
We were all impressed, particularly with the tremendous number of pushups and other exercises we performed instead of going to noon chow. During close-order drill, the short men had the toughest time staying in step.